Why It's Important Not to Stay in Your Own Lane
---
by Amy K. Davis, Esq.
The tattoos tell a story. The inmate has four sisters and a brother. Her mother died at the age of 38, when the inmate was 15. The inmate left behind a six-month-old daughter when she went to prison. The tattoos tell the story not through metaphor or imagery, but with data, with names and dates. A modern family tree, transcribed into her arrest record.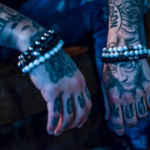 Seasoned investigators know the sources they can depend on to provide reliable information, and the information they can expect to find in those sources. You're on a tight deadline, you have a strict budget, and you have hundreds—maybe thousands—of pages of documents to sift through. The desire to stick to the sure thing is understandable.
But when you're confident you know where to look for information, it's easy to become complacent and overlook intelligence that may be hidden in plain sight. The savviest investigators avoid the pitfall of compartmentalization, of thinking they know what they're looking for and where to find it.
It's natural to turn to workers' comp files for employment intelligence, prison records for criminal data, vital records for family history. But a military file can uncover a decades-old felony conviction that predates computerized records. A small claims case filed by a bail bondsman can reveal that a subject once posted bail for his daughter. An auto crash report can disclose that a career service member worked as a mail carrier after retirement.
Corrections department records are a particularly rich trove of information. Because most prisons espouse a rehabilitative mission, they collect and examine data on every aspect of an inmate's life, from family history and relationships to educational and work experience. That holistic approach can be a boon to an investigator seeking to create a similarly comprehensive portrait of a subject.
And then there's social media.
We've all heard the stories of personal injury plaintiffs posting online photos of ski trips and workouts. Whether an individual is an unabashed oversharer or an avowed minimalist, there is gold to be mined from Facebook and other social networking sites.
Online crumbs can be dramatic or quotidian. A conference attendee's selfie shows a name badge listing his employer. A proud new car owner posts a photo of herself standing next to her ride, with license plate visible. A recently divorced retiree posts that he has reconciled with his first wife, 30 years and three marriages later. Friends or contacts can help home in on a subject who may use different names professionally, personally, and on social media.
An investigation is like a jigsaw puzzle, and an experienced investigator knows not to jam the pieces together. If they don't quite fit, there is probably a reason. Public records are not necessarily unimpeachable, or relevant. A birth certificate only goes so far if a subject never knew—and, therefore, never provided—her correct date of birth. Mindfulness coupled with vigilance, being receptive to finding clues in unexpected places, is the key to conducting an investigation that reveals both the facts and the nuances about an individual.
After all, how else will you discover that your subject once dated a serial killer?